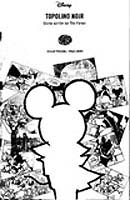 TOPOLINO NOIR


By Tito Faraci, G.Cavazzano and various artists


Published by Einaudi € 12.39

This comic book, published by Einaudi, shows very interesting aspects besides its good quality. Einaudi has only recently begun publishing comics and has chosen to follow rigid criteria, by giving preference, at least for the time being (and we hope these criteria will be kept), to quality rather than quantity. After Lo Sconosciuto by Magnus and Andrea Pazienza, Mickey Mouse is next. In this case, the stress of the book is on the character, rather than on its author. A serial popular comic character has been chosen, and the stories published are among the "classics" which were first published between the 1960s and the 1970s. Apart from this, what attracted my interest was Einaudi's choice to publish in black and white. The stories are those for which black is essential. That's the reason for Topolino Noir. The noir as a genre is more for adults, as it represents a world populated by damned characters typically involved in a sordid environment. It must have not been easy to find an author able to find a balance between the typical criteria of the noir genre and the requirements from a publishing house such as Disney, which target a very young public. The author is also a major attraction: Tito Faraci. Faraci, who was born in Gallarate in 1965, began his career as a music journalist, then he wrote a few short stories, a comic strip (Harpo) and then, in 1995, he began working for the Italian branch of Walt Disney. We all know how Disney is rigid about its characters, due to its strong bond with its public (made of families). However, Faraci has been able to break these rules and perhaps even change them.

As Daniele Brolli has underlined in his appendix to the book, Faraci's stories are based on the concept of American continuity applied to Disney's stories. In other words, Faraci writes as if the characters have their own life between one story and the other, and as if they could remember everything about their past lives. This leads Faraci to write "Dalla parte sbagliata". The story opens the volume and is based on a funny idea: Mickey Mouse becomes aware of the bizarre bond set up after years of fights against his life-long enemy Peg Leg. This is clearly the theme of the good and the evil (regarded as two faces of the same coin), which is typical of US movies, from The year of the dragon to the recent Heat and To live and die in LA.

Faraci seems to be very keen on the detective kind of story and he creates a sort of sub-genre by making the clumsy detective as the protagonist. This sub-genre is similar to the police procedural of the novels by Ed McBain and of TV serials such as Starsky and Hutch. He also makes specific stylistic choices by introducing abrupt and rhythmic dialogues and witty direct speech and captions. The result is amazing (sometimes it's a bit over the top) and often funny. Faraci's accuracy, supported by his experience as a detective story writer, prevents the plot from falling apart as often happens in the stories written by humorous writers. On the other hand, with his technique, Faraci creates hilarious scenes such as those of the best movies by the brothers Zucker. Such is the case of Topolino e il genio nell'ombra. In this story, the boss, Rud Mc Stud, believes that Goofy is the real "genius" (rather than Mickey Mouse) and orders a pair of clumsy thugs to frame him. This obviously produces a long and funny chain of misunderstandings. There's a lot to say about Faraci's style, which is sophisticated, but simple and immediate at the same time. We'd rather leave it to the readers to enjoy it page after page. However, I would like to stress the work of the artists, who give a special dynamism to their characters, in the way they move and speak. Two generations of artists have worked with Faraci: beside names such as Scapa, De Vita, Cavazzano, even the younger Corrado Mastantuonno, Silvia Ziche, Paolo Mottura and Fabio Celoni. Finally, I'd like to point out that the story Topolino e il fiume del tempo is supported by the work of Francesco Artibani, another multi-skilled humorous artist.

M.M.