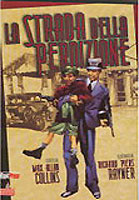 ROAD TO PERDITION


Writer Max Allan Collins
Artist Richard Piers Rayner

Magic PressParadox Press is one of the many series launched by DC Comics at the end of the 1990s, having some special features with regard to both size and content: it includes a number of substantial pocket size black and white books of 300 pages. The size is definitely unusual for the US comic book market, traditionally in colour. With regard to its content, Paradox may be regarded as a sort of "more realistic" appendix to the Vertigo series. Its stories target adult readers, who are more interested in "noir" style stories with tragic characters who live in a big city reality.
Such is the case of "Road to Perdition", a story by thriller writer Max Allan Collins with drawings by Richard Piers Rayner. Unfortunately, the pun of "Perdition", which is also the name of the town that the two characters must reach in order to save themselves from the bad guys, is lost in the Italian translation "La strada della Perdizione". The story takes place in the 1930s, during the prohibition. Michael O'Sullivan Jr. is a typical young kid who lives in Rock Island, in an area of town which is not rich but at the same time decent enough to live in. He lives with his mother, his father Michael Sr. and his brother Peter. Michael's life is peaceful until the day he finds out that his father is a professional killer who works for a gangster called John Looney. The kid finds out the secret in a most dramatic way, as he sees his father during one of his "executions" carried out in his cold professional way. Nothing can be the same as it was before. Not only is the relationship between brother and son going to change, but also the duo is forced to leave. Looney, in fact, does not believe that the kid will be able to keep the secret and therefore orders that the O'Sullivan family be killed. They may be able to rescue themselves in Perdition, a town where Michael's uncles live. Michael's uncles are keen on having the kid stay with them. Unfortunately, Looney's bad guys do not give up and Perdition, which is so close, seems to get harder and harder to reach. The O'Sullivan's escape turns into a long and bloody trail, which leads them to an inevitable showdown.
With "Road to Perdition" Collins merges the "noir" style features with those of a "story on the move" and the result is surely very good. The dialogues are very brusque, with genuine characters and a realistic background (at some stage Al Capone and Eliot Ness, the policeman who pursued Capone are also introduced). The story has an unpredictable end, which is not bad at all. It's a really good story and it's such a shame that its pictures are drawn by Ryners, the "killer" of Hellblazer by Jamie Delano of the early 1990s. Rayner is one of the many artists, who copy photographs to draw their pictures, which is not wrong if their work were re-adapted to the comic story. Unfortunately, this is not the case and at times the photos, which have been used as a model, can be very easily recognised (like the one taken from "Jaws", which has hardly anything to do with a story which takes place in the 1930s). However, Rayner's art in "Road to Perdition" – unlikely in the one of Hellblazer – has a very heavy line and is more functional rather than beautiful, which is a gap that DC Comics doesn't want to fill. For a bizarre tradition, which dates back to Vertigo's earlier series (such as Sandman and Hellblazer), the publishing company has continued to pick not very talented artists to draw excellent stories. This is a shame. However, "Road to Perdition" is well worth buying as it stands out as one of the best titles of the Paradox series. The reader will be able to compare it with the movie adaptation in which, if it goes to plan, will star Tom Hanks (interpreting O'Sullivan) under the direction of Sam Mendes, already famous for American Beauty.

M.M.