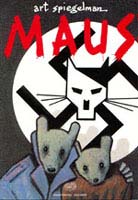 MAUS

Art Spiegelman

(Artist and Writer)

These two classics, Maus, A Survivor's Tale I: My Father Bleeds History and Maus - A Survivor's Tale II: And Here My Troubles Begin, written and drawn by Art Spiegelman, were published in 1973 and 1986 respectively and are currently being released in Italy as a single volume by Einaudi.
Maus, which is the German translation of the word "mouse", is the graphic solution used by Spiegelman for representing the Jews persecuted by the Nazis and the Holocaust itself. The Jewish are the mice persecuted by the cats, that is, the Germans, amongst the pigs (the Polish). These mice are already going to deal with the most atrocious destiny, regardless whether they survive or not such a horror. Maus, A Survivor's Tale I: My Father Bleeds History is the story of the life of Spiegelman's parents, focusing on his father Vadlek Spiegelman, who was one of the survivors from the Auschwitz concentration camp. Vladek is a surly and difficult person to deal with, he has many small obsessions (for instance, he always wants to repair everything himself, he hates waste and untidiness) but he is incredibly full of life. He recounts the most important facts of his life, from his days as a young "libertine" bachelor, his women his encounter with his future wife, Anja, not at all striking as a beauty, but educated, intelligent and from a rich family. Then the nightmare begins: Vladek tells about the first anti-Semitic incidents, the invasion of Poland, his leave for the front and subsequent capture by the Germans. Then his imprisonment, and his return to his family, based in Sosnowieck (which has now completely changed, and where the Jewish have lost every right and have become a "plague" to be eradicated). His escape, his life as a clandestine and finally his and Anja's capture and their deportation to Auschwitz, or rather "Mauschwitz". Vladek's story entangles with the unlucky story of many other Jews, most of whom are already destined never to go back to their homes. We also come across with the story of others, who, in their misery, turn somebody else in for a little money or just for the "simple" pleasure of ruining their lives. We also read of the report of the Nazi "trap", which relentless develops without anybody intending or being able to stop it.
On a parallel level, although in present time, another story is told: it is the story of Vladek's and his son Art's relationship. Art, a cartoonist, interviews his father with the objective of writing "Maus"; from his interviews with his father, we can see a strange detachment that Vladek feels about his past, so full of suffering, yet featured by his constant energy to go ahead, with no tears. Art's mother, a more sensitive person than Vladek, will not be able to find such personal strength...
In Spiegelman's second volume, Maus - A Survivor's Tale II: And Here My Troubles Begin, Spiegelman tells his story via a double narrative: through Vladek's memories and through his current life, in which he has to deal with his 'artist' son and with Mala, the woman who fills in the emptiness left by his beloved Anja. The narration of Vladek's life in Auschwitz is firmly linked to his wife Anja's, from whom he initially loses contact (she is deported to Birkenau) to find her again (thanks to secret bribes, Vladek manages to have her transferred to Auschwitz), and whom he then loses once again as Vladek and his mates are deported to Dachau. These events make their love story even more extraordinary and intriguing. Vladek and Anja will manage not only to survive but also to get together and continue their life together. But the suffering and pain experienced seem to be a heavy burden for Anja…
In this volume Art's autobiographic view is also interesting. In Maus II he becomes a bit of a celebrity, courted by journalists who interview him about Maus's meaning, but also by agents who – looking to do business with him – want to persuade him to start a multi-billion dollar merchandise business. Besides, Art is also concerned about the imminent birth of his son, and questions his ability to be a good father and avoid the mistakes made by the previous generation.

Both Maus tales successfully represent the dramatic events of the Holocaust. Their drawings, in black and white, effectively match with the simplicity of the story. Most of the time the characters speak a very simple language, based on the need to communicate simple concepts: if we bear in mind that it was necessary to switch from Polish to Hebrew to German, we have to recognise that the final result is quite effective. Vladek's and Anja's story, albeit painful, always leaves space to a feeble hope and it becomes inevitably touching when the two finally re-unite again despite their misfortunes, at the end of the Nightmare.
In the second story of Maus, Spiegelman also introduces other animal types: the frog (which represents the French guy who befriends Vladek) and the dogs (the Americans) in addition to the already known cats and pigs. Moreover, we read about recurrent premonitions when Anja asks a fortune-teller (represented as a butterfly), who predicts her reunion with her husband and their future life in the States. In the first story, also Vladek has a premonition dream, which takes place.
Einaudi, the Italian publishing company of Maus, has just re-edited and re-translated the book, giving a wonderful opportunity for not only adults but also kids, to get to know this masterpiece. Spiegelman's work is going to become one of the 'must' reads on the Holocaust, something in between Anna Frank's Diary and If This Is a Man by Primo Levi. In order never to forget.

L.P.